Pub quizzes are great for pubs. They can liven up otherwise quiet nights, give you a boost in regular revenue and turn your pub into a place where the community can come together.
Pub quizzes first arrived on the scene over 30 years ago, as a means of boosting sales. As it turns out, it worked! Today, the pub quiz industry is big business and many pub owners admit that they would have a hole in their revenue streams without them.
No one knows exactly how many pubs are running pub quizzes, but estimates suggest around 50% of the nation's pubs run regular pub quizzes. In terms of pub entertainment, only pool and darts are more popular.
Benefits of a pub quiz
1. Boosts revenue
Host your quiz on a quiet night and your takings will increase. There is little financial benefit to hosting a quiz on one of your busy nights, after all!
2. Encourages a diverse audience
The best quiz teams are a mixed group of genders and ages. When promoting a pub quiz, many landlords find that they get lots of new customers. Some people only visit pubs for the quiz, after all.
3. Promotes the community
With a diverse crowd all listening to the quiz master, pub quizzes are great opportunities to promote community events. Between rounds, you can advertise other events coming up in the local area.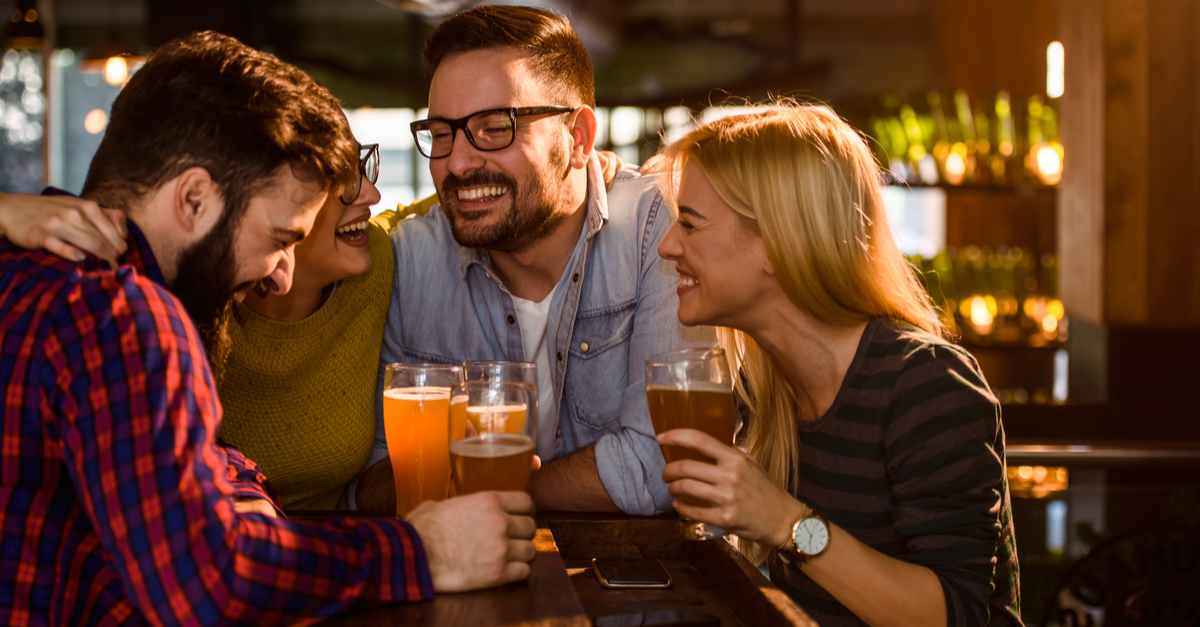 To make the most out of your quiz night, check out our pub quiz ideas and tips…
How to run a pub quiz
1. Get a good quizmaster
A quizmaster can make or break a quiz night. Find someone who is confident, competent and above all, charismatic. The best quizmasters keep the quiz running a decent pace and have great banter with the players.
2. Ask a variety of questions
Look, not everyone likes sport. Or history. Or politics. Note everyone reads the newspaper or watches Strictly. A good variety of questions gives everyone a chance to participate. The best pub quiz questions are ones that give everyone a chance of answering.
Audio/visual games, using handouts or your pub music system  are also a good way to shake up the formula and keep the quiz feeling fresh.
3. Get a visible scoreboard
When you start getting regular teams, competitiveness becomes one of the most exciting parts of a pub quiz. You can help this by linking the score to your pub TVs. This shows everyone who is in the lead and how close the quiz is getting. This is a great way to ramp up the banter, as well as the tension!
4. Arrange regular breaks
Give people as many opportunities to grab a drink as they can. After all, that's what you want them here for. After each round, make sure the quizmaster encourages people to relax and get refreshed before the next round. You can also use this time to promote any drinks deals you might be running.
5. Host theme nights
Themed nights are a great way to attract new patrons to your pub. A pub that might only see 6 or 7 teams on a normal night, can see the pub packed to the rafters on a Harry Potter themed pub quiz night!
For the less geeky, use regular events, like the World Cup, Halloween or Christmas to have themed nights. You can even go further with decorations, themed drinks and offers if you want to really roll out the barrel.
6. Use social media
Pub quizzes are a great opportunity for you to get a boost in your social media presence. Encourage people to share their pub quiz experience on social media to promote your quiz. You can also encourage people to Like your Facebook page by posting an answer to next week's question on your page as a teaser.