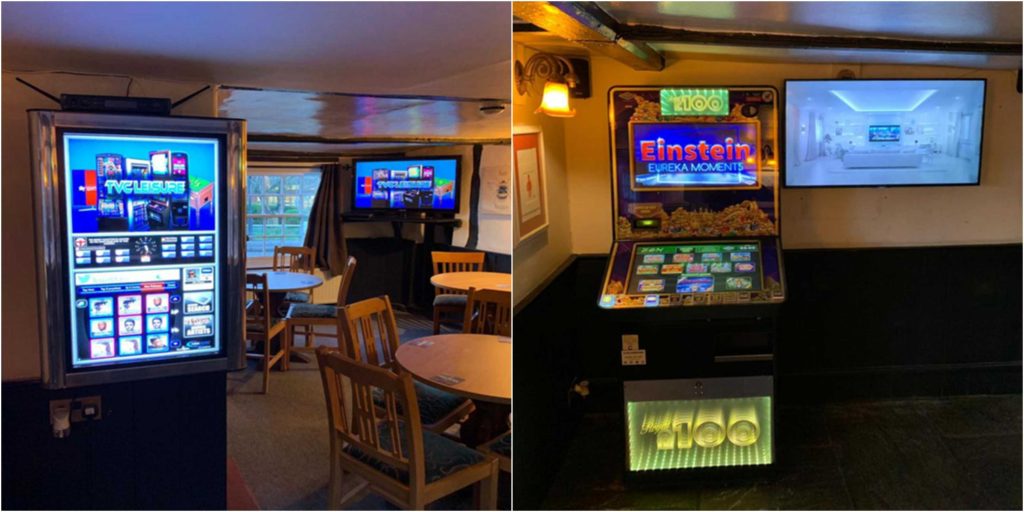 TVC leisure were recently instructed to supply gaming and amusement machines into a pub in the Village of Burnham in Berkshire.
The pub was previously tied on their gaming machines meaning they had to use a nominated supplier of the pub company. The landlord had become unhappy with this arrangement as they were not receiving a big enough share of the income and the service, what they were receiving was unsatisfactory. They were also very keen to have their equipment upgraded as they felt the equipment they were being supplied was very basic.
The landlord decided to remove themselves from their gaming machine tie giving them to the freedom to find a better deal with a new supplier and they came to TVC.
For this installation we upgraded the customers AWP fruit machine to a new Royal £100 digital gaming machine, we also installed a Fusion digital jukebox which has access to over 250,000 tracks and a 50-inch plasma TV. The jukebox is now connected to the customer's TV's to show music videos and advertising, Karaoke is also now available through the jukebox free of charge for the customer. We received some great feedback from June, the Landlady after the install.
"We chose TVC as our machine supplier as they are a local company that promised the best service and offered the best deal….so far we are very happy with our decision to work with TVC Leisure". 
TVC Leisure is a leading supplier of gaming and amusement machines throughout southern England, we supply to a large number of pubs and clubs in the region. We cover a vast amount of areas including London, Surrey, Hampshire, Berkshire, Buckinghamshire, Hertfordshire and Oxfordshire. You can find all the products we provide, from pool tables to fruit machines – we have a lot you can choose from. Contact us now for info.