For our latest installation, we were back in Oxford to supply gaming and amusement machines to a new sports bar in Oxford.
The sports bar recently relocated to larger premises to take advantage of a more accessible location and the potential of greater footfall.
To kit out their newest location, they shopped around for a new company to supply and install their entertainment system and chose us.

For this sports bar, we installed:
Two of our most popular fruit machines
The latest Casino King digital gaming machine
Icon Storm digital jukebox
HD projector with the capacity to display a 4 meter screen
A complete audio/visual system
Meeting the customer's needs, we installed 8 plasma TVs throughout the venue, each with the ability to be controlled independently. This allows for different channels to be shown at the same time. This means the FA Cup fans won't miss out when the Six Nations is on!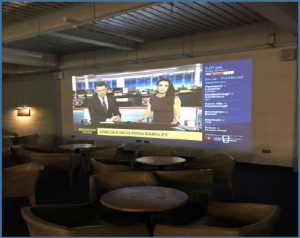 With the volume able to be controlled in each area too, the result is a fully integrated sports bar that can meet the needs of their larger numbers of clientele.
"I chose TVC for my gaming and amusement machines because they offered me a great deal and I was impressed with their service levels. The work they have done to install our entertainment system has been carried out very professionally and we are very happy with the results. I would highly recommend them."
Julian Wood – Owner
If you're looking to expand your business and are looking for a company that will kit out every aspect of your digital entertainment, contact TVC Leisure today. From TVs and audio equipment to fruit machines, pool tables and more, we install and maintain the highest quality entertainment products for all sorts of venues.