This week, the Great British Beer Festival opens at London Olympia. Featuring over 1,000 beers, ciders and perries from over 400 of the world's best breweries, beer lovers are spoilt for choice!
With so many beers to choose from, where do you start?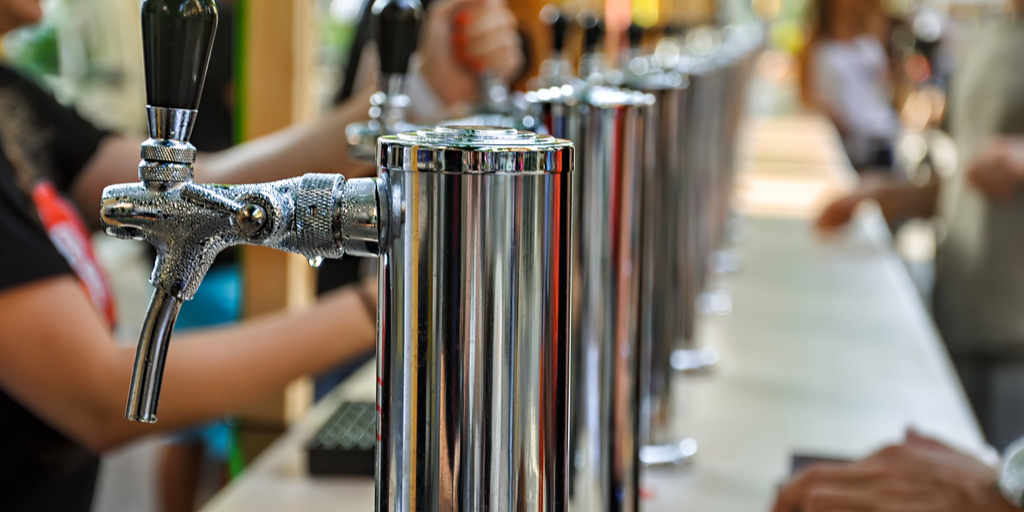 Fear not! We've searched high and low, from barrel to beer mat to find the very best pints that shouldn't be missed at this year's Great British Beer Festival.
Quirky Brews
Bad Kitty
Brass Castle Brewery, Malton
Brass Castle Brewery and Taphouse is a quirky creator of vegan and veggie-friendly beers.
Bad Kitty is a chewy chocolate-vanilla dream of a porter, inspired by the antics of its resident two cats. Rich in its depth of flavour and almost velvety on the tongue, this is a porter not to be missed!
Gurt Coconuts Rum Stout
Cerne Abbas Brewery, Dorset
Cerne Abbas prides itself on being located in the home of British brewing, following ancient traditions and using locally sourced ingredients. But don't let that fool you! They don't just brew "bold and refreshing ales", they have some exciting and experimental brews too.
Gurt Coconuts Rum Stout won the CAMRA Beerex Festival in 2017, and with good reason. This unique stout is smooth and rich, with a heady kick of rum and coconut that takes you from Dorset's rolling hills to a Havana beach hut in one sip.
Hoodwink
Mad Squirrel, Herts
Mad Squirrel's "unhinged beers" are a unique selection of limited availability brews that can be an acquired taste. But once you're bought in, there are so many flavours to explore.
Don't let Hookwink pull the wool over your eyes! Sure, it looks like a pale ale, but tastes like a stout! Made with lactose, vanilla and white chocolate this luscious dessert beer has disguised its decadent purpose in the finery of a golden ale.
Thai Me Up
Irving & Co, Portsmouth
Portsmouth's premier brewer is renown throughout Hampshire for producing a robust range of honest beers, inspired by the British Navy.
Their Festival Beer on the other hand, is an exotic golden bitter with the curry taste of coriander, cardamom and lime. It's a Thai curry in a glass and yes, it is as magical as that sounds!

Best of Bitters
Red MacGregor
The Orkney Brewery
The Orkney Brewery brews 5,000 years of history into its beer. Using traditional methods and the finest local ingredients, including the purest Orcadian water, The Orkney Brewery creates flavours as unique as the islands themselves.
Red Macgregor is a unique beer: delicate and sophisticated with a brilliant ruby red colour. A great session beer that offers more than the usual bitters.
Watercress Best
Itchen Valley Brewery, Hampshire
Nestled in the heart of Hampshire with over 30 million pints under their belt, the team at IVB are dedicated to creating innovative and interesting pints. Drawing on ingredients from all over the world, along with pure Hampshire water, the IVB range never fails to impress.
Watercress Best is brewed with local Alresford watercress, creating a subtle bitterness that you won't find in other glasses.
TEA
Hogs Back, Surrey
The Hogs Back Brewery produces some of the UK's most celebrated ales from their family-run brewery in Tongham. A pub staple across the country, you can trust Hogs Back beers to deliver on quality and taste.
TEA is the first brew to ever roll out of the brewery doors back in 1992 and continues to impress today. Well rounded, with a careful balance of bitter and sweet, this bitter is welcome in any pub. You can't go wrong with a pint of TEA!
Inspired IPAs
Volt IPA
Woodforde's, Norfolk
You won't find more Norfolk in one glass than you will with a beer from Woodforde's Brewery. With over 30 years experience, Woodforde's mastercrafters blend tradition and innovation to brew a wide range of beers, from porters to IPAs.
Volt IPA is one of those innovative brews. An American-inspired mix of pine, citrus and floral notes, this IPA is aromatic and rich.
Even Keel
Keltek Brewery, Cornwall
Keltek Brewery's  award winning, hand-brewed ales are a tribute to Celtic heritage and celebrate the historic tale of King Arthur.
Even Keel is a tribute to Nimue, the Lady of the Lake. Refreshing with a fruity yet malty first impression, Even Keel follows up with a hint of tangerine and gentle bitterness.
Proper Job
St Austell, Cornwall
Founded in 1851, St Austell Brewery is rich in tradition and heritage. In addition to brewing award-winning beers, the St Austell empire includes pubs, hotels and staples like Tribute and Cornish.
Proper Job is an authentic IPA brewed with Cornish spring water and a single malt made from Cornish grown Maris Otter Pale barley. Delivering a punch of citrus and grapefruit flavours, Proper Job does the job every time.
These are just 10 of the hundreds of beers to enjoy at the 2018 Great British Beer Festival, but they are ten quality beers. Whether you're visiting the festival this year, or enjoying them in your local, enjoy some of Britain's best beers!