Digital Gaming machines have become a pub staple over recent years, and for good reason. Not only are they a welcome sight to many of your clients who like to keep busy while enjoying a pint but they're also a fantastic additional revenue stream for you as a venue owner. Plus, as they're available from us on a revenue share basis, they don't even have to cost you a penny! Below you can find more information on a couple of our favourite digital gaming machines, their features and some new releases.
The Reno Casino by Reflex Gaming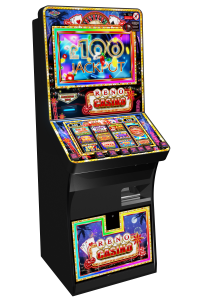 The Reno Casino is one of the latest digital gaming machines manufactured by Reflex Gaming. It is available to both pubs and clubs and has a £100 jackpot. It includes 10 exciting games including casino slots, roulette and traditional fruit games and is updated frequently with new titles. It's available from us on a no cost, no risk revenue share basis and is a fantastic extra revenue source for your business.
The Street Casino by Storm Gaming
The Street Casino is manufactured by Storm Gaming and is a favourite of many of our customers. It's available for both pubs and clubs and has a £100 and £400 jackpot dependent upon the type of venue it is placed in. It has a huge range of 24 games to choose from with brand new games added frequently, keeping it fresh and engaging for your customers. Plus, with it available on a no risk, no cost revenue share basis, it will generate you more money without costing you a penny.
The Latest in Digital Gaming by Storm
For this year Storm Gaming have released the Street Casino 2016 gaming package and the Storm HD cabinet. The 2016 gaming package includes 24 games, each with switchable Category C and B4 versions. This includes the 20-line Chimp slot and Sky Vegas' Railroad Riches. The Storm HD cabinet has been created in partnership with Inspired Gaming and features two ergonomically designed 22-inch screens, TITO ticket payout and high capacity hopper options.
Storm haven't stopped there though. They've also signed a software supply agreement with CORE Gaming giving Storm access to CORE's award-nominated online software portfolio. This means you  can expect fantastic updates to Storm Digital Gaming machines throughout 2016. For more information on our Digital Gaming machine hire services check out our page or get in touch today.