Halloween isn't just about trick or treating. It's also the time of year to get creative with Halloween beers and mix up a brew that embodies the spooky elements of the season!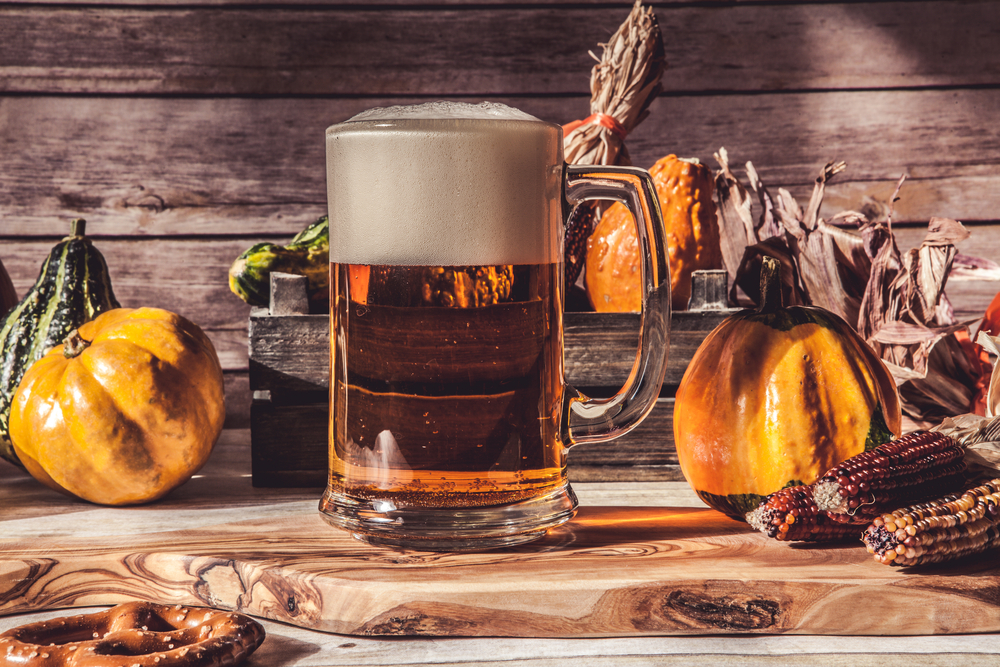 Thanks in part to its grungy, hipster appeal, craft brewers love this time of year and the result is a selection of beers that are big on flavour as well as style.
Check out our list of top Halloween beers for 2018!
Get Pumped for Pumpkins
UK craft beers are heavily influenced by the thousands of micro breweries popping up all over the United States. As a result, we've been seeing more and more pumpkin ales appear around this time of year.
A natural source of sugar, pumpkins have been used in the beer brewing process in the US for over a hundred years. So while it appears to be a fad for us, it's a tradition for them. And there are plenty of reasons to embrace the taste.
Not all pumpkin beers have actual pumpkin in them, because pumpkin has such a mild flavour. It's actually the spice mixture of cinnamon, nutmeg and cloves – the allusive "pumpkin spice".
Whether you're looking for a sweet, rich beer or a PSL taste without having to venture to a Starbucks, these beers have you covered!
Pump'd Keith.
6% | Keith Brewery Ltd. | Keith
…not sure if this counts as one of your five a day, but it's certainly nicer than sprouts
Pumpkin King
5.4% | Brewdog Brewery | Ellon Aberdeenshire
…not your usual unctuous, cloyingly sweet Hallowe'en pumpkin ale. Sure, there's a huge heady hit of pungent spice on the nose, but it's followed with bright and zesty citrus flavours, and a light mouthfeel. 
Atomic Pumpkin
6.4% | New Belgium | St Fort Collin, CO
With a serious spicy kick thanks to the addition of habanero peppers, Saigon cinnamon, and arbol peppers, this pumpkin beer is certainly not for the faint of heart.
Stingy Jack
7.2% | Beavertown Brewery | London
…a load of spices at the end of the boil as well as roast pumpkins glazed in maple syrup.
Embrace Your Dark Side
Autumn is the time to put away the light IPAs of summer and embrace the darkness. Brown, red and black ales have a richness to them that feels perfectly indulgent on a chilly evening. Delicious with hearty food and autumn flavours, dark ales make the perfect winter accompaniment.
They also make fantastic themed Halloween beers thanks to their dark and complex nature. From the sticky red of Zombie Blood to the black magic of Dark Arts, the Halloween themes of these beers are devilishly good.
Double Zombie Blood
7% | Odyssey Brew Co | Herefordshire
Lavishly hopped with Mosaic and Centennial and underpinned with a sticky oozy malt base that accentuates the intense tropical aromas and flavours. It ends with a dry bitter finish.
?
The Devil Made Me Brew It
5.5% | Arbor Ales | Bristol
Dry hopped oatmeal stout.
Agent of Evil
7% | Moor Beer Company | Bristol
Black IPA celebrating the dark side of the force.
Dead Guy Ale
6.8% | Rogue | Newport, OR
In the style of a German Maibock, Dead Guy is deep honey in colour with a malty aroma and a rich, hearty flavour.
View this post on Instagram
Dark Arts
6% | Magic Rock Brewing | Huddersfield
A luxuriously smooth mouthfeel, followed by spicy hop notes and full flavours of chocolate, liquorice, blackberries and figs. The finish is rich and satisfying with a lingering roasted bitterness.
View this post on Instagram
Black Eyed King Imp (Vietnamese Coffee Edition)
12.7% | Brewdog Brewery | Ellon, Aberdeenshire
…a super intense and twistedly complex brew, with intense notes of sweet vanilla, rich espresso, smooth molasses and bitter chocolate barley.
Rain Shadow
11.55% | Buxton Brewery | Buxton
A brooding, heavyweight Imperial Stout, crammed with intense, deep-roast speciality malts.
View this post on Instagram
Enjoy A Light Fright!
… but if you must stick to your light ales, there are a few spooky specimens that are a great alternative to the darks.
Its Aliiive!!
6.3% | Twisted Barrel Ale | Coventry
…juicy with a great bitterness, nice sweet counterbalance.
Trolltunga
6.3% | Buxton Brewery | Buxton
Trolltunga is a jutting rock in Norway, hanging 700 metres over Lake Ringedalsvatnet. Only the wary tread the path to the very edge. This beer was brewed to celebrate friendship and a love of wild places.
Skeleton Blues
5.2% | Stewart Brewery | Edinburgh
View this post on Instagram
American Wheat Beer. Winning entry from the Institute of Brewing & Distilling 2015 homebrewing competition.
Have we missed your favourite Halloween beer off this list? Let us know on our Facebook page.